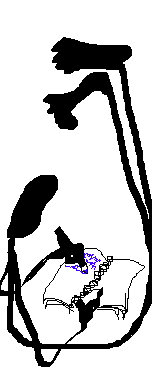 Dola Bola And The Search For The Inner Pickle
Though she hasn't quite eclipsed Arthur, the new craze in our household is for Dora the Explorer. Aviva, of course, makes the choices, but Noah is just as enthusiastic as she is: he trucks through the house, arms held high like a sprinter crossing the finish line, calling out: "Dola Bola! Dola Bola!"
I have mixed feelings about Dora. On the one hand, I like her. She's clearheaded, resourceful and undaunted. She's even-tempered and nonviolent. She deals with any calamity by solving it as a puzzle. If my monkey friend's new toy fell off the back of the UPS truck somewhere along its route through the Southwest, I might try calling the company or looking up the tracking number; but if these failed, well, I would give up. Not Dora. She sets out. That's what Dora does: she sets out. She's intrepid.
When people wrong her -- steal her packages and fling them into the swamp, say, before she can call out the magic injunction "Swiper no swiping!" -- she spends not a moment on rancor or indecision or self-pity or revenge; she locates the packages. Dora believes in preventative deterrents, but never in punitive ones. We all need a little more Dora in our lives and characters.
Then, too, I'm a sucker for Nickolodeon's cleverly strategized marketing plan. I like that Dora's a capable girl who's the star of her own show. I like that she's Hispanic (and that Boots the monkey, cleverly, is clearly Anglo -- gamely parrots the Spanish words, but you can tell from his accent and from the fact that Dora often has to act as intermediary).
But the show also bothers me. Though I like Dora's own ethics, I find the moral universe she inhabits pretty simple compared to, say, Arthur's. In Elwood City, everyone has nice moods and mean moods. Francine is Arthur's buddy, but she also picks on him. Arthur and D.W. are deeply loyal to each other despite their constant sniping. Binky is a bully with a heart of gold. Buster, while he is pretty much always nice, is terrifically gullible and obstinate in his half-baked notions.
In Dora's show, though, Dora is always sweet-tempered, and always right. Sidekick Boots is always fun, but helpless. Swiper, the show's villian, swipes things -- you can tell from his name. Heroes are heroes, villians are villians, sidekicks are sidekicks; in Dora, they've made the Man In The White Hat a Hispanic girl, but his dialectic remains intact....which bugs me.
Partly, I guess, it's just that the Arthur characters are round, and the Dora characters flat. Arthur characters remind you of people: Dora characters evoke aspects of people, ways of being. We are all sometimes Dora-like, sometimes Boots-like, sometimes Swiper-like. We are not really Buster-like or Brain-like or Binky-like in the same way, because Buster and Brain and Binky are not just one emblematic thing. And that's fine.
Indeed, that's what I think Aviva likes about the show. Compared to her usual diet of Arthur, it seems, on the surface, way too easy for her. The riddles and challenges meant to make the show, ponderously, "educational" -- finding the triangle, counting the eleven stars -- don't engage her at all. And she refuses to talk back to the screen, despite Dora's constant instructions and pleas to do so. (This makes watching Aviva watch the show kind of eerie. Dora pleads; Aviva is silent. Does she imagine Dora's pleas as being directed at some fictitious audience, not her? I find myself replying to Dora, shouting "barra!" to let the squirrel know he must stop his car at the stop light [who gave this squirrel a license anyway?] and Aviva shushes me. She has, apparently, less trouble than I do in keeping straight what is TV and what's real).
What I think she's loving about the show, though, what she's soaking up, is Dora's purity. She identifies with Arthur -- his anxieties, his failures, his nuanced triumphs -- but she aspires, maybe, to being Dora.
I told Aviva about how people are sometimes nice and sometimes mean in Arthur, and always one way or the other in Dora, and which did she think was more like life? She said, meeting my eyes, somewhat defiantly: "People who are nice are always nice." Which served me right, for asking a leading question!
What Noah gets out of it I'm not sure. He perches on the couch too, watching Dora, entranced. Part of it is that Aviva thinks it's cool and she's the center of his world at the moment. Part of it is that he thinks it's cool.
The other weird thing for me is how the show is clearly set inside a computer game. Where Arthur is a mimesis of life, transmuted by animal anthropomorphism, the exigencies of fiction, and occasional postmodern riffs like breaking the fourth wall, Dora is a mimesis of a computer game. It's not a dramatization of the events the computer game is supposed to represent -- it's a dramatization of what the lives of the characters in the computer game are like. The computer game is primary. I wonder if that'll be a core model of narrative for Aviva's generation? It sure wigs me out.
------
The title of this post, by the way, is from the Arthur casette tapes, which are many rungs of quality below the show. As opposed to the show's theme, played by Ziggy Marley and the Melody Makers, the casettes have their own theme, about "Arthur, the friendliest aardvark". In the song it says (I realized after much pondering): "when he finds he's in a pickle, you'll be amazed at what he can do". But I always heard it as:

When he finds his Inner Pickle,
you'll be amazed at what he can do-oo-oo...

Perhaps it's some kind of revelatory mystical state, like Buddha Nature: the Inner Pickle.
---
Also: I stumbled upon this and cannot resist sharing: Arthur/Simpsons crossover fanfic! (Only funny if you know both shows well enough to hear the characters' voices in your head; but then it's really quite funny indeed).
What I really want to see, now, is an Arthur/Cerebus crossover...
Posted by benrosen at July 13, 2005 03:00 PM | Up to blog