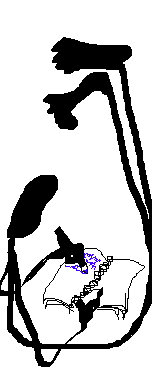 Worldcon Schedule
I'm going to the World Science Fiction Convention in Glasgow, where I get to find out if I won a Hugo Award for the zeppelin story.
Hope to see you there.
In case you're going -- here's my schedule:
Friday, August 5
~10:20 am Arrive in Glasgow on a train from Edinburgh
Saturday, August 6
12:00 noon Reading
Here, I read something. I have half an hour. Requests? What should I read?
7:00pm Is Blogging Helping or Hurting Your Career?
with Michael Cobley, Eileen Gunn, John Scalzi, Martha Wells. I am not too enthused about the stated topic, but the list of panelists sounds entertaining. My vote is to treat the official topic briefly, and then float off into conversational la-la land.
Sunday, August 7
12:00noon to 2:00pm Hugo Rehearsal
1:00pm Autographing
with Jay Caselberg, Anne McCaffrey, Bryan Talbot, Paul Witcover. My experience with signings has varied. Sometimes I have sat and read for an hour, undisturbed by autograph petitioners. Sometimes intense individuals have had me sign my bare name on my stories in many issues of digest magazines, which (they tell me when I ask) they have not read -- I feel kind of like a penny stock being bought "just in case" by a highly speculative investor. And sometimes my friends come by with copies of Other Cities (yay friends!). All of which are fine with me, and entertaining.
And then sometimes, every once in a while, people I haven't met before come with something I wrote that they liked. And that is very, very nice.

3:30pm Science Fiction Cities
with Gary Ehrlich, Ian McDonald, Steve Saffel, Robert Silverberg. Ooo! This one sounds like fun!
6.00pm Hugo Reception, Forth Room in Armadillo (Scottish Exhibition and Convention Centre)
8.00pm Hugo Ceremonies main theatre of the "Armadillo."
??? Hugo Loser's Party
Monday, August 8
2:30pm train to Edinburgh
...thence to Switzerland!
Posted by benrosen at July 26, 2005 01:57 PM | Up to blog