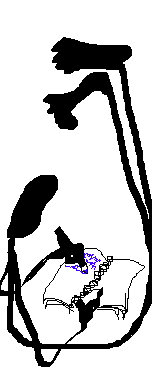 Like a Sturgeon, Tapped for the Very First Time...
Like a Stuh-uh-uh-urgeon, when your heart beats, next to my-ee-hi-ee-hine...

I just got back from a week at the Sycamore Hill Writer's Workshop, where I discovered that the crazy story I brought is of the Bakhtinian/Rabelaisian/BugsBunnyian Carneval.
Nothing like a week of critique, talk, and ping-pong with John Kessel, Richard Butner, Jim Kelly, Ted Chiang, F. Brett Cox, L. Timmel Duchamp, Theodora Goss, Kelly Link, Maureen McHugh, Mary Rickert, and Christopher Rowe to make you feel poorly educated and slow on the pickup... and to not mind that at all.
There were also many goldsmiths atop the mountain with us. Through an odd series of events born of their generous hospitality, Maureen's graciousness in accepting such, and the general giddy end-of-camp feeling, Maureen and I ended up giving a talk on Sycamore Hill in the middle of their Show-and-Tell last-evening ceremonies. Whereupon I read Ponge, and the goldsmiths liked it. They flooded up and bought all the copies of Other Cities that Kelly had on hand, and all the copies of Richard's and Dora's and Christopher's fantastic chapbooks too, and lots of copies of Maureen's and Kelly's wonderful collections. And they hungered for more, so I took money and addresses to send them more chapbooks. Like locusts they were, these goldsmiths. In a really, really good way.
Also the goldsmithy things they made (which were as much silver and lapidary and slate and whatnot) were really cool, including silver pea shooters and rubber band guns.
So, I've decided. My new target audience: goldsmiths.
You know?
Posted by benrosen at July 5, 2005 11:13 AM | Up to blog