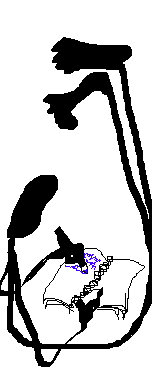 Thomas Covert, Letter #5
Fifth in a series of letters my great-great-great-grandfather wrote home from the American Civil War, exactly 150 years ago. The first part is dated the 14th, but it was sent on the 15th, so that's when I'm posting it.
Camp Dennison, Jan. 14th, 1862

My Dear Wife:

I now take this opportunity of writing you a few lines to let you know that I am as well & getting along as well as could be expected. I was on gard last night & feel somewhat sleepy. The last time I wrote to you I told you that I liked this ground a good deal better than I did the ground at Warren but it is a week since than and it is the damdest muddy place I ever saw. It was all mud last night but is froze up this morning. Charles Babbock has got the measles but is getting better. He has been pretty sick. We have done away with the card playing in the Barricks. It was done by a vote of the Company. Almost every man voted to do away with it. We voted to do away with all profane language and to have dancing once a week. There is a great deal of talk about our being discharged here in camp but we do not know anything about it. The talk is that we will have to be discharged or go into the Infantry. I shall go as Cavalry or go home and not all in camp think the same way, but I dont think there is any truth in the talk of our being discharged. I have been vaccinated for the small pox and it is working well. I hardly think there is any small pox in camp, still there may be. I wrote you a letter last Monday but have not received any letter yet but have been looking for one for three or four days but it will be along before long. We are expecting our pay before long & than I will send you a letter that will make you glad & I hope it will be one or two weeks. Tell Edie I will fetch her something nice when I come home. Nothing more at present, But I remain as ever,

Thos. M. Covert

Jan 15th
PS:
I had this letter sealed up when I received your letter. I was very glad to hear from you & to hear that you were well. You must do as you think best about those shoes, for Edie forgot about it at Warren. You had better not make any payment on the place out of the first money I send you for we do not know how things will turn out yet.

Direct your letters To:

T. M. Covert
6th O.V. Cavalry,
Camp Dennison, Oh.
Care Capt. Bingham
I guess card playing and profane language are from the Devil, but dancing is divine. I wonder what kind of dancing they're going to do?
His daughter Edie is not very old at this time, I get the impression from later letters that she's no more than five or six; so the remark that she forgot about the shoes is curious. Did she go visit him at camp in Warren by herself, with a message about the shoes, which she forgot? If so, I hope it wasn't a big deal; it seems a lot to entrust a six-year-old with. Does it have anything to do with the lasts, inspets, bristles & peg flats in the first letter, the ones the Hack Driver was supposed to bring him?
Posted by benrosen at January 15, 2012 09:31 AM | Up to blog