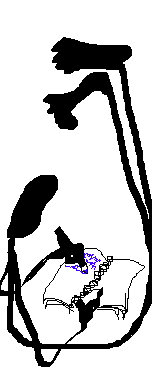 A Technogourmet's Manifesto
The company I work for is upgrading our cell phones, and they have given me an iPhone. It sits in a box on my desk. I am scurrying now to find out how to disable the internet on an iPhone (this may work).
I do not want any apps. I do not want to play Angry Birds. I do not want Twitter in my pocket. I want a cell phone which makes telephone calls and sends SMSses, and nothing else. I don't mind if it has a slick iOS interface for doing this, and there are probably some iPhone functions -- video and sound recording, perhaps -- that I won't mind. But the internet? That is right out.
This makes me sound like a technophobe.
On the other hand:
Most writers I know probably hand-code the bibliography page on their websites. Not me -- I wrote my own XSD describing an XML taxonomy of works, publications, reprints, venues, languages and translations, a XUI to generate a GUI to edit it in, and an XSL to transform it into this HTML. When I finish writing for the day, I run a Perl script of my own invention which counts words, reckons the total net increase and decrease, and writes statistics to a running log.
This makes me sound like a technophile.
As I've written before, in the 1990s I used a Palm PDA to organize my life. By careful steps of performance analysis, process improvement, and re-analysis, I have progressed to using a paper Moleskine and a binder-clip wallet.
I am not a technophobe; nor am I a technophile. I am a technogourmet.
In the movie Ratatouille, the young up-and-coming chef, Linguini, spars with with the formidable food critic Anton Ego:


Linguini: You're Anton Ego.
Anton Ego: [chuckles] You're slow for someone in the fast lane.
Linguini: And you're thin for someone who likes food.
[crowd gasps]
Anton Ego: I don't LIKE food. I LOVE it. If I don't love it, I don't SWALLOW.

That's me. I love technology. And if I don't love it, I don't swallow.
I asked for help, on Facebook, with this business of disabling internet on the iPhone. This occasioned a certain degree of hilarity among my intimates -- a hilarity which I encouraged. It is of course absurd to dumb down a hugely internet-centric portable device into a phone; as my old friend Elizabeth Mitchell said, it is like buying a car only to listen to its radio.
It is funny. But there's a little more to it than that. There is, in this day and age, something quirky and idiosyncratic about not wanting more -- more power, more bandwidth, more connectivity, more convenience. Not wanting to be always online, not wanting to have email and Facebook and blogs and YouTube and the news and Wikipedia constantly at your fingertips, when you are having breakfast with your children, or sitting on the sofa jamming with them on guitar and ukelele and clarinet, or walking across the medieval bridges of the old city in the evening on a date with your wife, or browsing in a bookstore, or trying desperately to come up with the right order of clauses in a sentence you've rewritten six times. Wanting to do all those things in peaceful netless silence, away from the hysteria of the world-mind, is already, in 2011, mildly subversive. And not wanting to be able to be online at these times -- not wanting to even have to make a conscious decision to turn the internet off -- that is even odder.
Here's the thing. If I won a car in a raffle, and there was a free parking space outside my apartment, and it was legal to do so? I would perhaps park the car, remove the engine and sell it, and use the car as an extra room. Overflow books and kitchen appliances in the trunk. A comfy place to listen to the radio. But to drive? No way.
I have had cars. I know what happens. When I have a car, I drive it. Biking becomes a luxury, a choice, another activity to try and make time for, to do occasionally and feel virtuous about. So I get out of shape. I spend time sitting, stressed out, in traffic. I go places that are farther away, because I can. I time things more closely, hoping to beat traffic, and then I'm late. I dress assuming air conditioning and a heater, instead of dressing for the weather, and get colds. When all I own is a bicycle, am automatically fitter, healthier, more reliable, tougher, and mellower, without any extra exertion of willpower. In a very literal sense, owning a car makes me a worse person.
Our selves are not merely epiphenomena of neuronal connections. We are not just made of meat. We are made of lots of other things: social fabrics, societal expectations, physical reminders of habits, and, most relevantly here, tools.
We are our tools. We hope to be judged by the contents of our characters; but our characters are not fixed and static natures. Our characters are constituted by our actions, our daily choices; and our choices are constrained, influenced, and often determined by our available tools. In choosing our tools we choose, in part, who we want to be.
If a technology is making you better -- better at being who you want to be -- use it, swallow it, become it. If it is making you worse, spit it out.
Posted by benrosen at April 20, 2011 03:53 PM | Up to blog