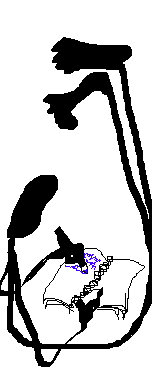 My Cover Artist on Art
The cover of my collection is a stock painting by the marvelous artist Brad Holland, whose portfolio is here.
I really like these: 1 2 3 4 5 6

He has an essay in New York Art Commentary:


Avant Garde: Over a hundred years ago, some French bohemians decreed the purpose of art was to shock the middle classes. It may have been a great idea back then. But these days, the middle classes aren't paying attention. They're all on Jerry Springer or Ricki Lake talking about their cross dressing experiences or sex with the baby-sitter. It's the cutting-edge artists who have to watch in silence and eat their hearts out, complaining about the state of American culture, and demanding even more grant money for more cutting-edge art. In the future, this spectacle of the middle classes shocking the avant-garde will probably become the textbook definition of Postmodernism.

-- Brad Holland, Express Yourself - It's Later Than You Think
It's quite funny.
Posted by benrosen at December 29, 2007 12:19 AM | Up to blog