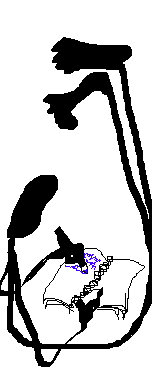 Further Notes Towards A Genre Slapfight
Okay, and while I'm grousing about the Old Masters, a lot of the things in the Turkey City Lexicon strike me as a little off. Check this, in the middle of a list of loser "Common Workshop Story Types", all of the others of which are clearly No-Nos:
The Slipstream Story

Non-SF story which is so ontologically distorted or related in such a bizarrely non-realist fashion that it cannot pass muster as commercial mainstream fiction and therefore seeks shelter in the SF or fantasy genre. Postmodern critique and technique are particularly fruitful in creating slipstream stories.

Uhh... what? You say that like it's a bad thing. "Cannot pass muster"? "Seeks shelter"? And I cannot but read "particularly fruitful" here as all snidey-pants, like "postmodern critique... snort... get it? snigger snigger."
Now, maybe I'm reading too much into this, but this seems as if, you know, you went to Milford back in the day, with a crazy-ass surreal Link/Bender/McCarron/DeNiro story, ol' Damon would hold up a hand imperiously, mid-reading, and shake his head, saying, "no, no, no, no, no. That is a slipstream story. Seek shelter elsewhere, please." And point firmly at the door.
Also, check this one:
The Tabloid Weird

Story produced by a confusion of SF and Fantasy tropes -- or rather, by a confusion of basic world-views. Tabloid Weird is usually produced by the author's own inability to distinguish between a rational, Newtonian-Einsteinian, cause-and- effect universe and an irrational, supernatural, fantastic universe. Either the FBI is hunting the escaped mutant from the genetics lab, or the drill-bit has bored straight into Hell -- but not both at once in the very same piece of fiction. Even fantasy worlds need an internal consistency of sorts, so that a Sasquatch Deal-with-the-Devil story is also "Tabloid Weird." Sasquatch crypto-zoology and Christian folk superstition simply don't mix well, even for comic effect. (Attr. Howard Waldrop)
Dude, Howard, what? Sasquatch Deal-with-the-Devil is a great idea for a story. Might you not be misdiagnosing as "the author's own inability to distinguish between" what is actually, say, "the author's refusal to confine herself to a dichotomy between"? Whence this prissiness?
Also, speaking seriously, do you think folk traditions invested in the notion of magic are incapable of adapting themselves to new information presented by the Einsteinian-Newtonian worldview? The idea of making a strict distinction between "hard, shiny SF stories" and "quaint, mystical, dewy-eyed fantasy stories" smacks of a certain kind of fetishizing, orientalizing, othering treatment of those goofy, silly believers in the supernatural. This can only lead, I fear, to a Disney view of worldviews -- shiny Robots of the Future in the Hall of Science, Turks in turbans sitting on the oriental rugs of Aladdin's Tent, quaint Germans in Trachten with beer steins in the Octoberfest pavillion, witches cackling on broomsticks in Halloweenland -- which ignores the vibrant hybrids of the real world, the fact that the real München Oktoberfest of our real 2007 is chock full of Wiccan robotics engineers of Turkish ancestry.
Now, there's nothing wrong, I suppose, with making a snarky and biting list of funny names for bad workshop story types that you are sick of seeing. One could compare the Strange Horizons list, and not myself having ever had to read slush, I do not wish to judge those who, in slush-crazed frenzy, lance their festering, aching boils with the sweet, sweet relief of mockery. The folks to whom these Turkey City quotes are attributed have written some amazing, moving, masterful and brilliant fictions. And, no doubt, the stories that inspired these categorizations really were bad.
Nonetheless, one cannot avoid the sense of a bunch of folks who've mastered, oh, let's say, twenty-three of the proverbial nine and sixty ways of constructing tribal lays, who are gathered together to snort milk out of their collective nose, laughing at the fumbling attempts of newbies to grope toward the other, missing, forty-six...
Posted by benrosen at November 8, 2007 12:52 PM | Up to blog