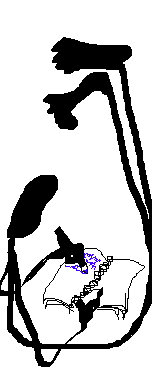 Begin Genre Slapfight #34702
So there's this venerable tradition of criticism, teaching, and praxis within speculative fiction that says that the true speculative fiction story is one that "could not be told otherwise".
You know, the SF story that could not be told other than in the future, the fantasy story that could not be told other than with magic. If you could replace your smeerps with rabbits, or your murder aboard a space station with a murder aboard a steamer ship, then, we are assured by John W. Campbell, Damon Knight, the Turkey City Lexicon, and the other Ghosts of Our Genre Fathers and Mothers (I imagine them hovering holographically above the dashboard of Billy Batson's big white RV from the groovy 1970s TV version of Captain Marvel, in place of Solomon, Hercules, and the other heroes and sages of the Hellenic-Judaic Pantheon), it is Not The True SF.
What, I wonder aloud provocatively, does this actually mean? I mean, I understand this as a specific criticism directed at some specific piece of amateurish prose under workshopping -- "these exotic steeds upon which your heroes canter are clearly actually horses, please call them horses." Sure. I'm down.
But I've also seen this elevated into a higher virtue, into the notion that what a story in Our Beloved Genre is worthy to the extent that you could not tell "the same story" out of it.
I find this odd. In some, trivial but perhaps not actually all that trivial, sense, you can't tell "the same story" if you change even one word -- Delany makes this point eloquently in About Writing. The story is not the plot summary, it is the aggregate effect of all those words, one after another, building structures in your brain.
If we are, though, going to admit the idea of "equivalent" stories, those in which our smeerps are called rabbits and so on, couldn't you, in the manner of Shakespeare companies everywhere nowadays, set The Lord of the Rings in World War II? Or Dune in T.E. Lawrence's Arabia? Or "The Cold Equations" in a lifeboat in the Polar Seas, cut off from Nelson's navy?
And would that, you know, be so bad? There always seems to be a hint of beleaguered self-justification about the claim that "it could not be done elsewhere", as if that answered some accusation regarding it being done at all. Why should the past be an inevitable default setting, the future only admissible with a permission slip? Why do I need a hall pass signed by Mother Necessity to get out of the classroom of the mimetic? Why can't I put in villanous polymorphic tapirs just because villanous polymorphic tapirs are cool, while gangsters are, you know, boring?
I recall having related discussion with Ted a while ago -- can't find it online now (O fickle internet!) -- and I seem to recall that (shockingly) we agreed: that the issue was whether you took your premises seriously, whether you followed your own logic. If your story is set on Jupiter, things follow from that, and you should address them, if it is not to be an ungainly wreck. Moving a story from a cell beneath the Hall of the Mountain King to a cell beneath the Ministry of Love should have consequences, and they should be carried out. Sure. I'm not arguing against that -- just against the notion that there is something particularly to be sought in a story which cannot be so moved, a story which would (supposedly) be destroyed by such a move.
Are there any such stories, really? And are they a gold standard? Weigh in.
Posted by benrosen at November 7, 2007 04:17 PM | Up to blog