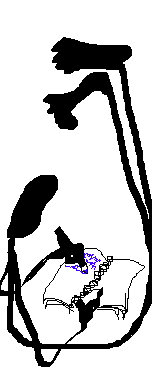 Novelistic Exhibitionism Teaser Meme

Turn to page 123 in your work-in-progress. (If you haven't gotten to page 123 yet, then turn to page 23. If you haven't gotten there yet, then get busy and write page 23.) Count down four sentences and then instead of just the fifth sentence, give us the whole paragraph.


Fift's parental cohort were mostly liberal Kumruists. That is to say, they were adherents of a religion which frowned on prenatal polysomatic engineering while it venerated the act of birth as a central mystery. Competition for who was to bear his single initial body had thus, naturally, been intense, and it was no surprize that the Younger Sibling of that particular Struggle was Mother Pip. Pip, a grand, fat, intimidating personage, very high-strung for a Pale, had had himself specifically outfitted with ovaries, uterus, and vagina, and required the rest of Fift's parents to acquire penises, the week of the (very traditional) impregnation.






Posted by benrosen at March 13, 2007 05:34 PM | Up to blog