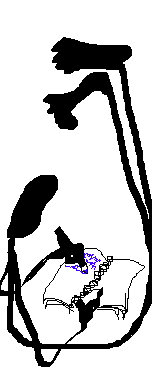 George and Jane
There is so much enthusiastic attention, in the circles in which I travel, paid Jane Austen, and yet no one ever seems to think of George Eliot.
I'm in the midst of The Mill on the Floss -- the first of hers I've read -- and, so far, she seems to have almost all of Austen's acuity of observation and facility with language, much of her wit, and if anything more greatness of spirit. Eliot is actually able to see those individuals -- children, servants, gypsies -- who were invisible to her great predecessor.
It is a particular delight to have children's inner lives described in something approaching Austenian vividness. The phrase "five dark minutes" occurs early in the wonderful BBC recording of The Mill on the Floss, and on hearing it I laughed so long and so loud that, as I handed him my dollar bill two or three minutes later, still in tears and giggles, the attendant at the toll plaza of the Dulles Acess Toll Road thought me very peculiar indeed.
Posted by benrosen at February 6, 2007 02:36 PM | Up to blog