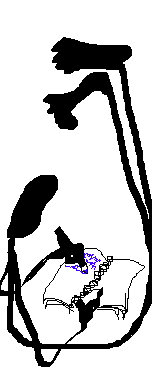 All Men Are Sisters
My schedule for this weekend's upcoming Plausfab Wisconsin:
Two Different Species? (Science and Technology)
Friday, 10:00-11:15 a.m. in Senate A
If men are from Mars and women are from Venus, does that mean we're all aliens? Hear from proponents and debunkers of the newest wave of a very old theory that holds that men can't understand women and vice versa. What is the current state of research on la difference in psychology, neurology, genetics, biomechanics? Who is trying to untangle the nature/nurture Gordian knot?
with Linda McAllister, Aaron Lichtov
Conveying the Post–Human in Humanist Terms (Writing SF&F: The Craft)
Saturday, 1:00-2:15 p.m. Saturday, 1:00-2:15 p.m. in Senate A
How can writers better render characters who exist in far–flung places and times to readers of our own times? How can they render them in some way sympathetically and understandably? If "human nature" is, for the purposes of a particular sfnal work, imagined differently, reinterpreted, or done away with altogether, how do you do it without losing the interest of potential readers? How without simply transporting 20th/21st century characters into a futuristic milieu?
with Janine Ellen Young, Jennifer Pelland, Eileen Gunn, Carol F. Emshwiller, Richard J. Chwedyk
New Wave Fabulists (Reading Group) (Readings)
Sunday, 10:00-11:15 a.m. Sunday, 10:00-11:15 a.m. in Conference Room 2
Benjamin Micah Rosenbaum, Matt Ruff, Tom La Farge and Wendy Walker read from their work.
Knitting for Boys (Feminism, Sex, and Gender)
Sunday, 4:00-5:15 p.m. Sunday, 4:00-5:15 p.m. in Conference Room 5
We had a fascinating discussion on the crafty craze on Susan Groppi's blog a while back. Why are so many women returning now to the knitting needles? And, if knitting is so darn cool, why so few men? Mary Anne volunteered to teach any boys who want to to crochet at WisCon; Susan offered to teach us to knit, too. I want to learn! And, perhaps, what better context for a low-key, convivial discussion of craftiness, the DIY ethic, feminism, this generation's return to things abandoned, what girls like to do and what boys like to do and out of what mechanisms these likes arise, and whatever else comes into our pretty little heads....
with judy [judith] s. Peterson, Joseph Murphy, Jason Erik Lundberg, Jessica C. Adams
The SignOut (Events)
Monday, 11:30am-12:45pm Monday, 11:30am-12:45pm in Wis/Cap
Come and sign your works, come and get things signed, come and hang out and wind down before you leave.
with everybody and her sister.

Posted by benrosen at May 22, 2006 01:14 PM | Up to blog