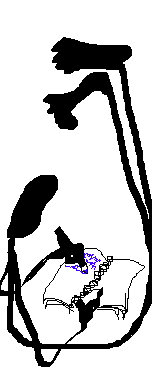 Ports
Okay, so, I consider George Bush to be one of our worst and most dangerous presidents ever. Not because he's spectacularly personally incompetent (despite all the teeth-gnashing about his grades and so on, he's probably squarely in the low-middle range of historical Presidential competence, given his aims). Nor because he's a raving zealot (my assessment is that he's an extremist in certain regards, and a party hack, but not delusional).
No, it's that because he's charismatic and aw-shucks-good-hearted and mildly-competent and, in certain regards, visionary (that he actually believes in the furtherance of worldwide democracy, while it excuses neither the bloody-minded means, the overreach, nor the rather debased definition of democracy that he holds, is perversely striking in a context of widespread cynicism about the notion) enough that his moral flaws -- the extremely high value he places on personal loyalty to the exclusion of other goods, his stubbornness, his disinterest in the idea of civil rights and actual personal liberty, his extreme degree of comfort with the military-industrial complex and the culture of cronyism, his facile and parochial and fuzzy and circular moral sensibility wherein you can do anything you like to the bad guys because they're the bad guys -- these flaws actually have far greater weight than if he were a madman or a fool.
It's because he's kind of a nice guy with some interesting things to say that we've ended up mired in a land war in Asia, abandoning the Bill of Rights, defending widespread and routine torture by American agencies, on a steep plummet into national budgetary bankruptcy, with an even more bloated Federal bureaucracy even less capable of responding to national disasters, somewhat more (and a good deal more justly) despised by the world.
The thing about Richard Nixon is he knew he was corrupt; he knew he was greedy for power, and I think he felt ashamed about it, enough to obsessively and furtively hide his misdeeds. George W. Bush has, I think, no idea that he's corrupt -- he thinks helping out your buddies is just what you do. I think he has no idea that committing treason, e.g. in the matter of Valerie Plame, is wrong.
Which is why it's with great chagrin that I find myself siding with Bush this week in the matter of the port system.
It seems like if you are going to sell some function of government to private industry, it is spectacularly naive to think that some extra measure of protection will be provided by having the owners of the company in question be (as Howard Dean just implied they should be, in the cafeteria TV in my office building where I was just microwaving lunch) Americans.
It rather seems like government should police the important bits itself, and the other bits, the ones you can sell off to private operators, should be, you know, for sale.
Opposing this -- not restructuring port security in general, mind you, just opposing a one-off sale of a port to some Ay-rabs -- seems like nauseatingly transparent political gamesmanship. How did the Democrats decide, exactly, that the way to recapture the hearts of American voters was to try and be more xenophobic and security-hysterical than the Republicans?
Posted by benrosen at March 1, 2006 05:03 PM | Up to blog