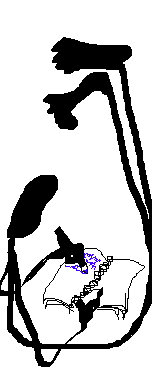 Sales and Translations
The Library of Congress reading was cool. (Thanks to Matt Hulan for reminding me to bring a hand mirror to deflect the lasers shot by the eyes of the robotic guardian shark-dogs -- worked like a charm).


Hmm, you know, given that this is supposed to be some kind of writing blog, I am not very good about posting the actual, you know, writing stuff.
Recent stuff:
I sold "A Siege of Cranes" to Twenty Epics. If, by some bizarre chance, you were reading this blog in January of 2001 (when it was an "online journal", since I'd never heard the word "blog"), you may remember this story. That's right, I worked on that freaking thing for five years, and it went through umpteen major revisions -- the last, and among the most ambitious, after I'd already sold it, at Dave Moles's gentle prodding. I'm pretty excited that it finally found a home.

It's interesting to re-read that old entry and see what I was working on then -- it makes me wonder, in part, if I shouldn't perhaps be less cagey about what I'm working on now, except that I've noticed that I tend to get skittish about finishing things I've talked up in public. The two stories I was setting aside at the time, I've never picked up again yet -- as stories. But in both cases, the backstory got reused in a totally different context. The Amra story was set in a world of symbionts which later became the backdrop to "Embracing-the-New"; and the setting to "The Trouble with Danny" (which I hope still to get back to someday) got reused in "Falling" (that link, alas, will now only work if you have an account with Nature; if you're at a university or federal agency, you can go ahead and click it, otherwise, not so much). Nice to know my confidence in the process was justified -- re-use, revise, recycle...


I also sold "The House Beyond Your Sky" to Strange Horizons. I am, it goes without saying, extremely pleased to once again appear in SH, as they are my peeps. I'm also very fond of the story, which is set so far in the future that it makes "Droplet" look like historical fiction: the stars have all gone out, and the remaining mass in the universe is being scattered by quintessence in a Big Freeze; it's the first SF story I've seen inspired by Dyson's eternal intelligence hypothesis, though I'm sure there are others. In being a hard-physics eschatological tale, it's similar in spirit to Ken Wharton's wonderful Aloha, although, since that is set at the midpoint of a Big Crunch, mine takes place much later, so nyaah. (I wonder if it's in the top ten latest-set SF stories of all time?)

A number of translations are in the works:

I love getting translated. Along with hearing audio versions of my stories, seeing them in other languages is the bomb -- particularly for languages which I can more or less follow (it helps when you know what it's supposed to say). Along with the existing Spanish, Japanese, Croatian, Bulgarian, French, and Rumanian translations of various stories, that makes ten languages. Whee!


Posted by benrosen at February 25, 2006 11:43 PM | Up to blog