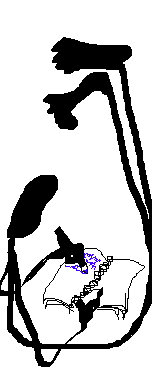 A Very Basel Building
I went swimming on Saturday, for about two meters.
This is because the pool closed at six, and, in a moment of foolish whimsy, I presumed this meant that, you know, the pool closed at six. But no. If the pool as an enterprise closes at six, you must be out of the water well before six. And so the Bademeister ahem'd at me as soon as my head broke water, and out I had to go. My pleas for an extra five minutes encountered good-natured Swiss granite.
Really all he had to say was one magic word, a word which can end all arguments: "Feierabend." A word for which the English equivalent ("quitting time"?) does no justice. It is not just quitting time, it is celebration-evening; the evening is here, in itself cause for celebration. And when it is Feierabend, it is the end of the work day. There is no "extra five minutes" in the work day. This is not anyone's opinion, wish, or decision. It is an inarguable fact of definition.
And this, of course, is as it should be. I have this feeling often, in a culture more worker-friendly, less customer-friendly, than the one I was raised in: a mixture of irritation at being inconvenienced, with the added wisftulness of knowing that I am in the wrong, and a kind of partial, secret happiness that it is so.
Anyway, there I was, hair wet, unswum, and on my way out through the automatic turnstile of the Rialto pool. I paused at the stairwell, and there I saw the list of the occupants of the building, by floor. And I am going to post it here. It's not that it's laugh-out-loud funny? It's just emblematic, of this odd, officious, gentle country I have made my home.
3.OG
Sozialversicherungsgericht Basel-Stadt, Kanzlei
fabs. Fachstelle Behinderung & Sexualität
3rd floor: Social Insurance Court of Basel City, Offices

fabs: Information Bureau for Disability and Sexuality

(Also the exit to the bridge over the Birsig)
2.OG
Restaurant Rialto/Säle
2nd floor: Restaurant Rialto/Conference Rooms

(A pretty fancy restaurant)
1.OG
Sozialversicherungsgericht Basel-Stadt, Gerichtssaal
1st floor: Social Insurance Court of Basel City, Courtroom
EG
Coiffure Lamboley
Ground floor: Hairdressing Salon Lamboley

(Also, exit to the road and biketrail along the Birsig)
UG
Hallenbad/Sauna/Solarium
Basement: Public pool/Sauna/Solarium

This is a pretty nice indoor pool, too, considering that a day pass is ~$6 for adults and $3 for kids
I don't know -- does it come across? The chic restaurant where biotech firms rent a room for $200-a-plate dinners, three floors up from the public pool where the immigrant kids are toweling their hair? The hairdresser, and the tiny little courtroom for some obscure part of the city's tidily ticking legal apparatus? The civic office where experts work earnestly to make sure orgasms are accessible to all citizens? The bike trail by the stream where you can look in through tall windows to see swimmers doing laps, and look up to see bicycles passing over the bridge above? That's my town.
Posted by benrosen at September 27, 2012 06:00 PM | Up to blog