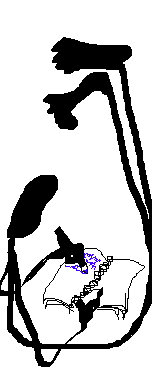 Wiscon Schedule 2012
4:00–5:15 pm
Conference 2
Five Tales of Longing, Constraint, and general Creepiness. Safe as houses? Think again.
Christopher Barzak, M Rickert, Benjamin Rosenbaum, Sofia Samatar, David J. Schwartz
10:00–11:15 am
Conference 4
A repeat of "Imaginary Book Club" from last year's WisCon. Each panelist presents a review of an imaginary book, and other panelists discuss the books and their merits. Possible books to review: Connie Willis's foray into noir steampunk, "Beyond Lies the Dubstep" by Philip K. Dick, and Le Guin's new translation of Borges.
Alyc Helms, Saira Ali, Julia Rios, Benjamin Rosenbaum, Jane A Thompson
Whether it's for movies, TV, literature, or games of all kinds, creative people in SF&F have to build their worlds from scratch. Let's see how they do it. We'll start with some categories (tech level, economic system, climate, races, etc.), get ideas about each of them from the audience, select the best ideas in each category, then watch the panelists writhe as they figure out how to make them work together.
Benjamin Rosenbaum, Vylar Kaftan, Rachel Kronick, Victoria Lopez, Carol Townsend
Fascinated by theater improv? Come learn and play! Beginners will learn basic improv skills; those with experience already know how much fun it is
David D. Levine, Emily Jones, Benjamin Rosenbaum, Elizabeth Stone, Elena Tabachnick
11:30 am–12:45 pm
Capitol/Wisconsin
Come and sign your works, come and get things signed, come and hang out and wind down before you leave.
Will Alexander, Sandra Ulbrich Almazan, Barth Anderson, Eleanor A. Arnason, F.J. Bergmann, Alex Bledsoe, Dr. Janice M. Bogstad, K. Tempest Bradford, Brit Mandelo, Richard Chwedyk, Timmi Duchamp, Pamela Dyer-Bennet, Sigrid Ellis, James Frenkel, Carolyn Ives Gilman, Eileen Gunn, Andrea D. Hairston, Liz Henry, Alaya Dawn Johnson, Vylar Kaftan, Keffy R. M. Kehrli, Ellen Klages, Ellen Kushner, Rose Lemberg, David D. Levine, Claire Light, Malinda Lo, Kimberley Long-Ewing, Josh Lukin, Neesha Meminger, Mary Anne Mohanraj, Allison Moon, Nancy Jane Moore, Deirdre M. Murphy, Pat Murphy, Larissa N. Niec, Jennifer Pelland, Julia Rios, James P. Roberts, Madeleine E. Robins, Benjamin Rosenbaum, Kiini Salaam, Catherine M. Schaff-Stump, Fred Schepartz, Nisi Shawl, Delia Sherman, Caroline Stevermer, Cecilia Tan, Lynne M. Thomas, Amy Thomson, JoSelle Vanderhooft, Vanessa Vega, Elizabeth Bear, Phoebe Wray, Patricia C Wrede
Posted by benrosen at May 17, 2012 12:47 AM | Up to blog