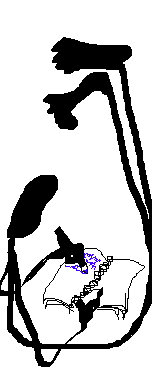 Second Draft Progress
Scrivener tells me that I've made my way through 50 paperback pages of the second full draft of "The Unravelling"; the first draft clocked in at 264 pages, so that gives us 18.9%.
It feels funny calling it a "second draft" when the "first draft" took many years and required many massive revisions, including, you may recall, at one point throwing out 40% of the words I'd written. But this is the first revision after the one where the book actually managed to stumble its way to an ending, so I guess that makes it a second draft.
I solicited a first batch of critiquers for the end of February; at this point it looks a bit unlikely that I'll make that deadline, though it's hardly linear work; some parts I sail through, other times I get stuck for days on one page. I already did one readthrough and markup, of a physical printout of the first draft; now I'm gradually entering the chapters into Scrivener on my MacBook Air, and revising them as I go. It's less line-level at this point (though I can't help fiddling), than addressing a series of structural and continuity problems, some micro-level (I have to come up with consistent language for "this person has two bodies, total" versus "two of this person's bodies were present" -- I'm calling the first "two-bodied" and the second "doublebodied", I think; readers may not parse this consciously but hopefully it will feel right) some larger. A lot of the problems are about the pacing -- both how fast events transpire, and how and when what information is fed to the reader.
I don't want the deadline to slip too much, because it would be very nice if some of my critiquers had read it by Wiscon so I could talk about it with them face-to-face... and I have the vague ambition of maybe talking to agents and such this summer... which idea seems like a palm-tree'd island glimpsed from the crest of the occasional wave before I am borne down again into the deep blue, clinging to the broken spar of routine...
Posted by benrosen at February 8, 2012 01:16 PM | Up to blog