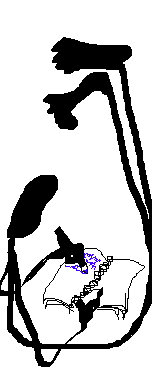 Thomas Covert, Letter #3
Camp Hutchins, Dec. 3rd, 1861

My Dear Wife:

It is with pleasure that I sit down to let you know that I received your letter last night. I was glad to hear that you was all well, but sorry that you do not get along any better. I shall try to have a part of my wages paid to you monthly. The Captain has promised me the Saddlers place & if I get it, it will be a good thing for me & I hope that I shall get it. We have got our overcoats & boots & will have the rest of our cloths today & tomorrow. I can't come home till after then, but do not look for me till I come, for I don't know when they will send me. I do not feel verry well to day, but I hope that I shall feel better by tomorrow. I was on gard Sunday and cought cold & have a hard pain in my right lung, but I think I shall be well in a day or two. Tell Edie that I take her picture and look at it every day, and that I will come as soon as I can. I send you in this letter one dollar. It is all I have to send. You must excuse me for not writing more as I do not feel very well.

Yours As Ever,

T. M. Covert.

Dictated by Aviva to me on a Saturday morning in Basel, one hundred and fifty years, to the day, after Thomas Covert sent it.
Edie was his daughter. The themes in this letter -- homesickness, health problems, struggles to support the family financially while off at war -- will recur.
Posted by benrosen at December 3, 2011 09:13 AM | Up to blog