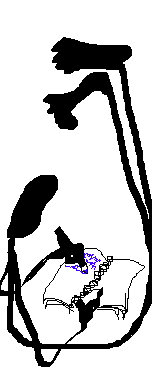 One Hundred and One Lullabies
You may recall from an earlier entry that we sing a lot of lullabies in our house. And not just traditional, rock-a-bye-baby lullabies: pretty much anything that can be sung a capella and downtempo will do. Sometimes songs are rejected as too nightmare-inducing, but then again, sometimes songs that you would think would be nightmare-inducing are apparently not: Noah has been regularly requesting Jonathan Coulton's "Re: Your Brains" lately.
In a discussion about musical eras, we realized that our lullaby repertoire has a very uneven distribution. There are is a small smattering of the occasional Elizabethan (eg Greensleeves), medieval Jewish, or traditional folk tunes (such as the Guggisberglied). Then there are a few songs from the mid-nineteenth century (Amazing Grace, John Brown's Body, etc) and a few late Victorian (Daisy Bell). Then there is a gap until the twenties and thirties, when we have a spate of Cole Porter and jazz standards.
Then it's pretty empty again until the sixties, and then there's a massive spike in the sixties and seventies, which form the bulk of the repertoire (pretty evenly distributed between Motown, folk rock, and British Invasion). Then frequency dwindles steadily throughout the eighties, nineties, and oughts, with us being rather hard pressed to find much from 2009 and 2010. Which partly shows you how much general contemporary popular music we are listening to -- and partly shows you that what contemporary popular music we do listen to tends not to be very lullabiable. Songs with a significant rap component, songs requiring impossible vocal abilities (looking at you, Björk), songs which demand an uptempo handling, and songs in which the vocals interact interestingly with the instrumentation -- rather than standing on their own in some kind of refrain/chorus structure -- do not convert very well to lullabies.
So now my goal is to be able to sing one lullaby (broadly defined) released in every year between 1910 and 2010.
I would be very happy for suggestions, particularly for the periods 1910-1930, 1949-1960, and 1995-2010. Priority will given to songs I already can sing some of and just have to learn the rest of the words to, followed by songs that are relatively easy to learn from, say, YouTube. I am a functional illiterate with regards to musical notation, so sheet music is less helpful than performance, though I guess I could get Aviva to play things for me.
More thoughts after the cut...
In the process of charting our repertoire and searching for new options, I was surprised by a lot of things.
The period 1910-1920 seems to have been a really strange period in American music, at least going by Wikipedia -- not something that was part of my internal conceptual music history. Late nineteenth century music, all those hymns and Civil War songs ("When Johnny Comes Marching Home") seem much more familiar. 1910-1920 there's all this ethnic music (when that meant Irish, Polish, Jewish, and Italian, and when those were strongly ethnic categories in the US).
The nineteen-teens are the source of all that schmaltzy Irish music I've always heard about but don't actually know -- "Danny Boy" and "When Irish Eyes are Smiling". Are these songs about Irishness the way, I don't know, some rap songs of the 90s are about blackness? There seems to be this moment somewhere in there where the Irish turn over vaudeville and music halls to the Jews, and go off to be white. Okay, wait, this just in: Haddayr tells me in chat that "Danny Boy was written by an Englishman who had never set foot in Ireland, and When Irish Eyes are Smiling is an American song... not written by Irish Americans, either". In a way this reinforces my point though: they're Irixploitation songs! Nothing says "undigested American ethnicity" like people who are not even from your group making sentimental songs about how Other you are while pretending to be you.
There's also all this very political music, union songs and pro-and anti-war songs. Of course the blues and jazz are also getting started, but it's surprising how few blues and jazz standards, or even songs I've heard of are actually from the period 1910-1920. They tend to be either earlier (When The Saints Come Marching In) or later.
I also had the history of show tunes totally wrong. There seems, for me, something kind of atemporal about Broadway, so that Porgy & Bess (1935), Oklahoma (1943), The Sound of Music (1959), and A Little Night Music (1973) all feel like they come from the same time period. (Perhaps this atemporality comes from the fact that I don't know Gershwin, Hammerstein, or Sondheim's works from the shows themselves, but from the songs' use as standards. Nina Simone, Barbara Streisand or Norah Jones will move seamlessly from "Send in the Clowns"(1973) to "My Funny Valentine"(1937), with none of the jarring sense you would get going from a non-show-tune, top 40 pop song from 1973 to one from 1937.)
Posted by benrosen at January 26, 2011 03:56 PM | Up to blog