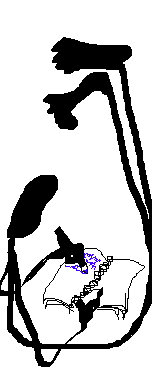 Identity and Othering in "The Ant King and Other Stories": An Analysis
I've been learning and thinking a lot while following the RaGoogle, don't index this as white people have authored the pages in the first goddamn seven hits of the relevant searchceFail '09....
The other night, inspired by Mary Anne's latest post chez Scalzi, and also, and in particular, by nojojo's analysis of her own work in her post "we worry about it too" -- and being that I am a statistics-lovin' geek like that -- I skimmed through my own short story collection, The Ant King and Other Stories, trying to get a sense of how I handle race, ethnicity, and other kinds of difference.
Excluding all the Other Cities except The White City, because they're not really character-based (there could be a separate analysis of how multicultural each of those cities reads as), I counted

121 characters in the collection who are either named, or take some specifically described action on their own initiative. Of these:

Race




One interesting and perhaps illuminating note on this skew: of all the stories, the only one with a majority of its characters marked explicitly as characters of color (albeit just barely) is "Biographical Notes"... but it has a majority of South Asian characters, and the Aryan Raj is the dominant hegemonic power in that alternate history. So interestingly the pull we see in this statistical skew is the pull to write about the ethnically dominant group -- whether that's white (as in our world) or not. I think it's particularly fascinating because with Biographical Notes I had no particular intention of making it a story about the Hindus -- if anything its focus for me was about alternate Judaism and an alternate destiny for the Americas -- but the Hindu characters proliferated for reasons of story mechanics, because as the dominant group, they had the most agency.

Religion

there are 27 characters with an explicitly marked religion, of which

12 are "village polytheists" in invented worlds (everyone in Ilmak Dale, presumably Kadath-Naan, the Godly in "Embracing-the-New")
6 are Jewish -- the author Benjamin Rosenbaum in "Sense and Sensibility", Gabriel Goodman alias Benjamin Rosenbaum in "Biographical Notes", and Benjamin Rosenbaum, David, Abigail, and Jonathan in "The Book of Jashar"; in addition, in that story, Mezipatheh and the ass of Balaam become, at the very least, Noahide monotheists honoring the God of Israel by the end of it; and Matthias's posthuman billion-years-from-now religion is theologically and liturgically evocative of Judaism; so say 9 Jewish or quasi-Jewish
3 (in Biographical Notes) are Hindu
2 are worshippers of Dagon (Achish and, initially, Mezipatheh)
1 is Tibetan Buddhist (the Dalai Lama in "The Orange")

No one is ever explicitly marked as Christian; but, of course, no one needs to be: otherwise unmarked contemporary characters read as either Christian or secular post-Christian, depending on region and class ("aging rural store managers" are Christian; their "estranged lesbian daughters on Wall Street" are post-, right?).




Sexuality

5 characters are explicitly LGBTQ (in "The Ant King", Monique is trans, Corpse is epicene, Sheila and Vic are "80/20 straight", and in "The Orange" there's that estranged lesbian daughter)
5 are arguably queer (in "Orphans", the old lady has a thing for elephants; in "Red Leather Tassels" George's wife has a thing for cartoons -- although the woodpecker's reciprocal lust reads, to me, as heteronormative despite being equally transspecies!; and "The Book of Jashar" adds further textual evidence to support inferences about the passionate relationship between David and Jonathan already implied by the canonical text).
In addition, the 9 characters in Start the Clock who are arrested at pre-pubescent ages are something -- being proudly or at least indifferently nonsexual (presexual? postsexual? or maybe just differently sexual -- maybe they play doctor?) is clearly a part of their identity. I think that, like the spacers in "Aye, and Gomorrah", they're sexually othered in the reader's experience -- but unlike those spacers, they are normative for their own world and generation -- though part of that is the result of years of work by activists like Suze. Anyway, for now let's call them "paraqueer".




Instances of Fail

It was fascinating to read my own work through this prism, and I heartily recommend it. Among the less pleasant insights were the following instances of fail:


Kadath-Naan of "A Siege of Cranes" is, to my chagrin, pure Sacrificial Negro. He's big. He's black. He's a literalized animal-man. He's martially potent. He has his own culturally alien code of values which conveniently leads him to immediately drop the mission he's on in order to assist our hero. Despite being a trained investigator commando of some kind, he frequently defers to the untrained peasant who he's accompanying. He dies heroically saving the more-or-less white guy. Crap!

One positive revelation about "The Valley of Giants" is that it is focussed on the disenfranchised -- the people of the invaded country, not its invaders, and in so doing is the only story which bucks the "focus on the powerful group (even if on disempowered members within it)" trend. But also ends with sexualized, gentle, apparently idiotic, primitive giants who apparently exist only to fulfill the needs of the viewpoint characters and who are explicitly racialized (brown hair like yarn, teak skin) more than any other characters in the story. Um, ick.

Most human characters are racialized as white. Most animal/fruit/mythical being/alien characters are racialized as nonwhite. Sigh.

All the explicit LGBTQ characters (though not all the arguably-queer or "paraqueer") are employed for comic effect. Ow!

Edited to add: in comments, jamesG points out that the handling of one character in "A Siege of Cranes" trades on a lot of Roma stereotypes. Ack. (Spolier warning though: the comments do give something crucial about the story away.)




Another thing I learned: when I write a story which I think of as explicitly addressing race -- like "Biographical Notes", or like (the post-Ant-King stories, written with David Ackert, who's of Iranian descent) "Stray" or "King of the Djinn" -- I'm likely to do my homework and think through the issues.
But it's easy for race to simply be off my radar when the focus of a story is elsewhere; a racial analysis of "A Siege of Cranes" simply never occurred to me until three days ago.
(The racial issues in "King of the Djinn" are not entirely unfraught -- Nick Mamatas said about the story, in email, "...the tragic, disaffected Muslim (especially those who are middle-class and thus supposedly the best people in the whole wide world) is the 21st century liberal's version of the tragic mullato. A stock character, a political signifier searching for a sign" -- but I can't claim I never thought about them.)
Posted by benrosen at March 14, 2009 03:56 PM | Up to blog