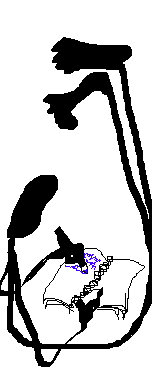 Knees Tag
I have a suspicion that, much as the proper kinds of laziness, impatience and hubris are virtues in a programmer, so too the proper kinds of laziness, impatience, and selfishness are virtues in a parent.
Or that's what I tell myself, anyway.
Some parents may insist that their children dress and feed themselves out of a dutiful, considered commitment to nurturing their young ones' independence. I do it because I am damned if I am going to get out of my chair to pour yet another bowl of corn flakes (it is all corn flakes all the time around here lately -- or would be, if the kids had their way. Oh, the haggling over how many teaspoons of sugar!)
Similarly, many parents force themselves to play whatever games their kids want to play. You may hate Candyland, goes the theory, but if the little dears are obsessed with it, then it is probably developmentally critical for them to rehearse those card-drawing and figurine-advancing skills, and you should endure hours of Candyland-based togetherness with a happy smile.
Not me. I am unwilling to have pretend fun with my kids. If we are going to play something, then it's going have to be fun for me too. And I don't mean it would be fun for me if I were more enlightened, easygoing, and wise. No, I mean fun for the actual me: fiercely competitive, intellectually demanding, rules-lawyering, irritated by luck, and allergic to bad game design.
I like to think, though, that in this case selfishness is a virtue, because the result of it is that I love playing with my kids. I can't wait to go out and play with them. Now, we do spend an awful lot of time negotiating, tinkering with the rules, trying to figure out how to make it fun for everyone. Sometimes these negotiations break down into temper tantrums, it is true. Sometimes it is even the kids having the temper tantrums. I have also gone overboard at times and discovered that they were just humoring me (which isn't the point either). But all in all I think it's worth it. I think there's something very satisfying to kids in playing with an adult who is having as much fun as they are.
So as the kids grow up and their interests vary and we get bored with things, our game time becomes a constant exercise in the design of new games -- in particular, new ways to balance the playing field so that we are evenly matched.
Today we came up with two new games. One involved pillow figthing on the bed in which I had to be flat on my back, fighting upward. The other one was Knees Tag.

Knees Tag
You will need:
Some adults and some children. A large open space. The players may be on foot, or wearing rollerblades.


Rules:
The game is a variation on Freeze Tag. All adults are on one team and all children are on the other team. Everyone is simultaneously "it".

If a child tags an adult, the adult is frozen in place until freed by another adult, or a child overcome with sympathy for their plight.

A child can be similarly frozen but only if tagged by an adult on the front of the child's knee (for instance, on the knee pad of a rollerblading child wearing knee pads), and is similarly liberated.

Note that, since everyone is simultaneously "it", this means adults must tag the children's knees while avoiding getting tagged themselves.

I played this all afternoon against Aviva and Noah. It would have helped to have another adult, though they were very generous about unfreezing me.
It is very challenging, running backwards while avoiding being tagged while trying to tag the knee pad of a seven-year old who is rollerblading rapidly toward you.
Posted by benrosen at September 27, 2008 11:07 PM | Up to blog