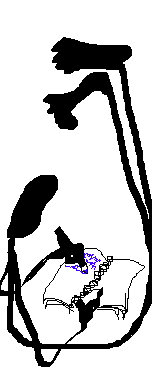 The Ant King, Up From the Depths with a Giant Cockroach Loaded Down With Riches (Links, Free Downloads, and a Contest)
So:
theantking.com should now take you to my publisher's site for The Ant King and Other Stories. Yay!
The entire collection is now under a Creative Commons Attribution-NonCommercial-ShareAlike 3.0 license and you can download it here in a variety of formats.
If you produce any new formats, let me know and I'll try and have Small Beer post them on that page.
You can remix it, and create derivative works. In fact let us have a little contest:

Contest Rules

Create a derivative work of any story in The Ant King and Other Stories
Place it under the same license (you do this just by including a declaration to that effect on the work in its published form)
Post a link to the work (or some kind of recording or representation of the work, like a youtube video if it's a live performance, or a picture of it if it's, like, a vase or something) in the comments to this blog entry.
Derivative works can be translations, plays, movies, radio plays, audiobooks, flashmob happenings, horticultural installations, visual artworks, slash fanfic epics, robot operas, sequels, webcomics, ASCII art, text adventure games, roleplaying campaigns, knitting projects, handmade shoes, or anything else you feel like.
On March 3, 2009 (that gives you six months), I will send signed (and extensively doodled-upon) hardcover copies of The Ant King and Other Stories to the creators of the three derivative works that I like the best.
Obviously, other than what's covered in the CC license, you retain all rights to your works, so if you've made, you know, House-Beyond-Your-Sky-themed coasters, you get to sell them or put drinks on them to keep rings off your coffee table or whatever. And if you want to actually sell the rights to reproduce the derivative work commercially, I will in all probability tell you that you can, unless you're, like, a Hollywood studio. :-)

Sound good?
At some point I'll do something a little fancier with the URL theantking.com, but I don't want to get too distracted from Resilience at the moment... I'm having a return to productivity since Worldcon (thanks to all the stimulating conversations I had with all the wonderful people whom I have as usual completely failed to acknowledge in any kind of con report), and I don't want to get derailed...!
Posted by benrosen at September 3, 2008 08:49 PM | Up to blog