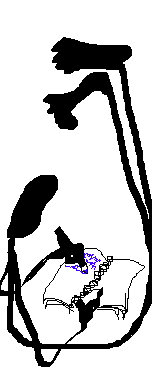 "Science Fiction is a way of reading"
(Says Samuel Delany, in About Writing.)
So I've subscribed to One Story, which has a clever conceit, and, so far, pretty good stories. The one that arrived in my mailbox the other day, Muscle Memory by, just in case she's ego-googling, one Katherine Karlin, is the best so far: understated, deft and subtle, unpredictable, resisting easy moves, ambiguous; achieving an effect whereby at the end you realize it has snuck into your gut, snuck its characters' grief and restlessness and sorrow and ambition into your own limbic system, and you never saw it coming.
But anyway, I'm on page 2 of this story, trying to figure out what it's about and whether I like it, as one does on page 2, and also what kind of story it is. So far it's about a young woman whose dead father was a shipyard welder, and who wants to be a shipyard welder too, in some part of America,. This feels like a comfortable set of clues to what kind of story it will be. And then I get to this paragraph:
Destiny was eighteen. She and her mother lived in a house without neighbors. Occasionally a masterless dog would trot down the street, clicking its paws on the pavement, and turn his curious face to the house as he passed. Their view -- once crowded with housed, churches, bars, and a corner store where the little kids once bought Slim Jims after school -- now let them see straight to where the levee used to be, and in the daytime they could watch ice chests and laundry baskets bobbing in the canal like buoys.
And because I'm have a certain kind of reading apparatus, because I'm a genre reader, I get a little thrill as that reading apparatus comes online, and I think "whoa--- is this a post-apocalypse story?"
Of course (as, on re-reading, I realize I must be some kind of dummy to miss) it is indeed a post-apocalypse story -- one set in the Lower Ninth Ward of New Orleans in our own 2008.
And interestingly, once that reading apparatus is triggered, it stays online, its seductions available, having me read an account of the real world as a poignant, chilling (and distanced, and thus comforting) warning of future destruction.
Which is kind of alienating.
Posted by benrosen at June 10, 2008 07:28 PM | Up to blog