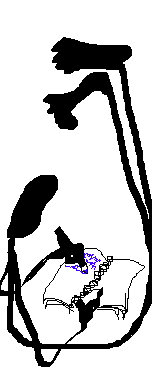 Feminist report card
Some time ago I came across Frank Miller Test. My immediate initial thought was that my story "Droplet" fails it, as pretty much everyone in "Droplet" who is presented as female is not only a (former) sex worker, but in fact an (emancipated) sex robot.
(Since I'm working -- desultorily, at present -- on a sequel to Droplet, I've been thinking about the story a lot, and have come to the conclusion that the way gender is handled in it is all wrong, for the world of the novel, at least. But anyway...)
In the same context I came across the Dykes To Watch Out For Test, which is both broader and more basic in focus, and more stringent.
So I decided to do an analysis of all the stories I've written according to these criteria. The results of the Frank Miller investigation were not too shocking; other than in Droplet, I don't think I've written about any sex workers at all (one almost wonders if there should be another test designed to address the invisibility of, rather than the obsession with, sex work?)
But the Dykes To Watch Out For test results were, intitially, quite shocking. The pull to have men do the talking, the relating, the acting ... or, if a woman is present, to have her be an exceptional exemplar seen primarily in relation to men... is not only strong but invisibly strong, because in casually wondering about my oeuvre, I figured most of my stories would pass -- but that was because, in the context of that particular train of thought, I was thinking naturally of stories that concerned gender -- the other stories that were "just about stuff", and therefore were almost exclusively full of male characters, just as "naturally" were off my radar.
On the other hand, I realized I have a lot of stories that have very few characters or little dialogue -- some, like the Other Cities, The Orange, On the cliff by the river, and The White City, have effectively no dialogue -- so that the Dykes To Watch Out For Test isn't really all that applicable. It's designed for movies, after all -- very few movies have zero dialogue, or only two characters. To deal with this disparity in a statistically honest fashion, I added two other tests: the "inverse-DTWOF" test (two men talk about something other than a woman) and the "a man and a woman talk to each other (about anything)" test.
This allows me to break the bibilography into four categories: Low Dialogue and Heteromemetic stories, in which either no one talks, or it's just a man and a woman talking to each other; Androcentric stories in which boys talk, and girls are largely peripheral; Gynocentric stories which are the reverse; and Ambicentric stories in which there are communications within and between genders.
While the initial breakdown of eight androcentric stories compared to seven gyno- and ambicentric stories doesn't look so bad, it's actually somewhat worse than that. There aren't any stories where only female characters appear -- the closest is The Valley of Giants, in which the various male characters are unnamed and get no dialogue -- while there are plenty with essentially no women onstage (Embracing-the-New, The King of the Djinn), or with just one woman present, who is invariably in a romantic relationship with one of the (speaking) male characters (The Duck, The Book of Jahsar, The Death Trap of Dr. Nefario, The Blow, Falling); or else where there are several female characters who, however, are really foils, objects of desire, or antagonists for the men -- but don't talk to each other (Biographical Notes..., Red Leather Tassels, The Ant King unless Corpse is female). "True Names" I have generously classed as ambicentric just because the gender system is so weird, but, in fact, if you ignore the pronouns and consider filters (the more disadvantaged of the two genders to which most of the characters belong) as the "females", you're forced to note that two filters never really have a conversation which does not involve a strategy.
The number of actual conversations between adult human women in my oeuvre is shockingly limited... Shar and Narra, the radical grandmothers in Valley of the Giants, the Dashwoods... and Abby and Suze in Start the Clock, if you're willing to consider them adults.
Of course, longer stories are naturally going to have more chances for interaction among all their characters than shorter ones, a progression which is obvious in the chart.
(Anyone else want to subject your stories to the same analysis? We could make a meme of it... :-) )
Posted by benrosen at April 15, 2008 12:37 AM | Up to blog