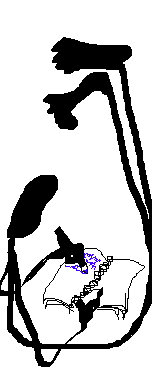 On Zoning
We live now in a small suburb of Basel.
When I say suburb, don't imagine an American suburb. The one we left -- Pimmit Hills, in Falls Church, was a textbook maze of cul-de-sacs, a square mile of houses, lawns, and parks bounded by highways and strip malls. Within the square mile, kids biked along the sidewalks, neighbors chatted across fences and verandas. It was a lovely neighborhood.
Pimmit Hills was great to bike within, but you couldn't bike beyond it. The subway station was only a mile and a half to the south, and the vast sensory-overload-inducing shopping mall (Tyson's Corner) a mile to the north; but they were, respectively, unpleasant and literally impossible to bike to. (Getting to Tyson's by foot required taking a bus at least one stop, past the multi-lane I-495 on-ramp).

One of the most strikingly different things about Basel is the granularity of zoning.
In America, from the center of the city, you drive half an hour -- an hour in traffic -- before reaching the suburbs, where trees begin to be taller than houses and greenery to outmass buildings. Then, after you drive through the suburbs for another two hours, you reach the exurbs, and then actual productive agricultural land. Then, after driving through that for an hour, you reach uncultivated land -- forests, etc.
To envision Basel, replace "drive an hour" with "bike five minutes".
Note: this is the honeymoon period, in which I will be blogging about how awesome Switzerland is. Expect me to be bitching in three months or so about how nothing is open on Sunday and a sushi lunch costs $50.
The one thing that I really do miss, though, zoning-wise, is the fact that the kids could run right out the door, through the front yard, and down the sidewalk to other front yards, with other kids playing in them. Here we have to negotiate a side street, a main street, a crosswalk with a light, and a cobblestone piazza before we get to a playground with other kids (when we arrived, at the height summer, most of the other kids were in Kosovo or South France anyway. School starts today, and the playgrounds are full again).
This is a little stressful -- you can't be just like "you're being too loud! Out! Out! Go play!" (Instead, the attic becomes the area to funnel loud kid energy into.)
In an odd reversal typical of crossing the atlantic, when we go downtown, to the center of the city, it's all Fussgängerzonen -- car-free -- so that the kids can run wild, scaring the pigeons, climbing on fountains, parking themselves on chairs of outdoor cafes, and singing their way, hand in hand, over the cobblestones.
Everything is backwards in our new life, so outside your door, in the suburbs, is car-dangerous, but running around in the urban center is safe.
Posted by benrosen at August 28, 2007 10:35 AM | Up to blog