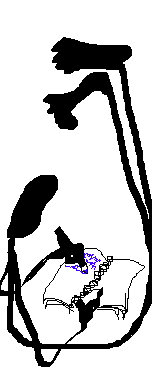 Sad
My grandmother, Jeanne Freeman Smith, died this morning.
I didn't quite make it to see her off while she was still alive, but I sat by her body with my mom and dad for a while. She looked very peaceful and relaxed.
She was beautiful, loving, warm, sweet, sensible, and very deep. I took my kids to see her last week, and she was so delighted with them -- she was good at delighting in things, and people.
She went very fast -- the hospice lady, who was with her at the end, thought that it might take days of struggle, instead of under an hour. But I think Jeanne, where others fight the end, said: "Oh... my train is here! Goodbye! Goodbye!"
(My mom was telling family stories at her bedside, and after one about how Grandma Jeanne had as usual prevailed with sweetness and mild persuasion over Grandpa Charlie's hotheaded insistence on something, I asked: "Did she always get her way?" and Mom thought a little bit and said, "well, she was so good at accepting things, that when she didn't get her way, it became her way.")
I was very lucky to have her for a grandmother, and that she stuck around so long. She was ninety-six.
Posted by benrosen at April 3, 2007 12:35 PM | Up to blog