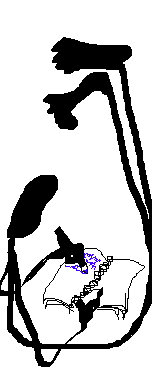 That Dog, the Self
The comments on the previous post are getting sufficiently interesting that I feel I should summarize them here before expanding on them any further....
Matt asked about the ""Bishop Berkeley/Shankara/Red King" worldview, and I said a bunch of stuff (you can go look at the comments) which comes down to this: I operate from three contrasting positions. That we live in a wholly materialist/causative/rationalist/empirically investigable cosmos, and that we live in a dream of Mind, seem like equally parsimonious hypotheses, irreducible to one another and irreconcilable but on some level isomorphic; between these, as a kind of Hegelian synthesis, and as a matter of practice rather than theory, is the conversation with the Divine -- which for me is usually in the context of monotheistic religious devotionalism.
David Moles argued that, in practice, the idealist and materialist worldviews come to the same thing; I'm not so sure. There's the question of culture (do we simply not have the cultural tools to be rigorous about the idealist hypothesis?) and the question of their emotional valence: for me they feel different.
To which Dave replies:

One might argue from a Buddhist perspective that attachment to a concrete external universe and attachment to a dream are equally attachments -- and, hence, equally misleading.
Which is very true, and it's funny he should say that --
As I was musing on the bus to work this morning about what to add here with regard to the triad posed above -- idealist and materialist cosmologies and devotional practice -- it occurred to me that in a materialist universe, "God" is no more and no less and illusion than "you" are -- if you smack me upside the head, and my house is simultaneously struck by lightning, to attribute either event to the willful action of a metaphysical Self is equally fanciful.
And while this is easy for materialists to embrace in theory, it's difficult in practice. While it's perhaps possible nowadays to find people whose worldview doesn't implicitly rely on a God-in-whatever-clothing, it's difficult to find anyone who actually doesn't believe in the myth of the Self. And if they're myths -- that is, under the materialist hypothesis -- I find the myth of God a useful corrective for the myth of Self.
As Farid Ud-Din Attar says:


The Self's squint-eyed and cannot guide you well
part dog, part parasite, part infidel.
When you are praised your Self swells up with pride
(Aware that praise is quite unjustified);
There's no hope for the Self -- the dog grows fatter
The more it hears men fawn, deceive and flatter.
What is your childhood but a negligence,
A time of carelessness and ignorance?
What is your youth but madness, strife and danger,
Knowledge that in this world you are a stranger?
What is your age but torpid helplessness,
The flesh and spirit sapped by long distress?
...
Such slaves the Self owns! What a catalogue!
How many rush to worship this foul dog!
...
[And though a hundred thousand corpses lie
around you, your fool Self thinks it won't die!]"

-- (from The Conference of the Birds, lines 1970-87, tr. Afkham Darbandi and Dick Davis, except for the last couplet which I redid my way)


Re: Negative Capability -- it's something I have always wished to cultivate, and I think I find it easier in philosophy than in fiction. Mary Anne made a comment like this at Wiscon -- that I present things elegantly wrapped up in stories which I view as complex and open-ended in conversation. And this is one of the things the Dark Cabal takes my g-g-g-generation to task for, in contradistinction to the inarguably more artistically mature Kelly Link.
I've been thinking about the Dark Cabalists' post and taking it to heart: I'm working on it. I'll say that here to save myself the trouble of registering a Blogger account to say it there (maybe they'll see the Trackback).
Posted by benrosen at June 14, 2005 10:17 AM | Up to blog