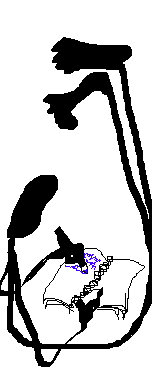 WisCon Report, part 1
I spent Memorial Day Weekend at WisCon, "The World's Only Feminist Science Fiction Convention".
That I went to WisCon is a result primarily of Karen Meisner's use of the classic marketing strategy of repetition. I already was intrigued by the idea of a feminist science fiction convention. I already knew many cool people were going there -- it's Strange Horizons' home convention and a major hub of literary, stylistically innovative, and politically engaged science fiction and fantasy. I already knew I would have a lot of fun there.
But this is not how the human brain works. Knowing something is a good idea is usually insufficient motivation to do it.
At the World Fantasy Convention, every five minutes that we were in the same room, Karen and I would have a conversation that went like this:
Me: "Gee, this sure is fun."
Karen: "Come to WisCon"
or
Me: "Ha, how cute. Your son sounds like a great kid."
Karen: "Come to WisCon."
or
Me: "Hmm, the tuna melt looks pretty good."
Karen: "Come to WisCon."
So I did.

So why do I go to these things?
Here are some people I hung out with at WisCon. Okay, one or two I just waved at. But I got to have real conversations with most of them. I got to dance and sing (Karaoke at the brilliant Ratbastards party, impromptu showtunes in the hallway with Nisi and Andrea and Sheree and some unknown people whose names I forgot, including those whom I will call Amazing Jazz Voice Woman and Boisterous Show Tune Man) with many of them. I got books by some of them. I signed books for others of them. I was on panels with some of them. But mainly we talked; mainly I had long, impassioned conversations of the kind ordinary life somehow provides too little time for. ..
Alan De Niro, Andrea D. Hairston, Aynjel Kaye, Barth Anderson, Caroline Stevermer, Celia Marsh, Cheryl Morgan, Chris Barzak , Christopher Rowe, Daniel Starr, David G. Hartwell, David Moles , David Schwartz, Diana Sherman, Eileen Gunn, Elad Haber, Ellen Klages, Gavin Grant , Grace Dugan, Greg van Eekhout , Gwenda Bond , Hannah Wolf Bowen, Heather Shaw , Heidi Waterhouse, Hilary Moon Murphy, Cassie, and Duncan, Janet Choi , Jason Lundberg , Jay Lake, Jed Hartman , Jenn Reese , Jennifer Lackey and husband, Jim Munroe , John Kessel, Justine Larbalestier , Karen Meisner, Par, and Jeremiah, Kat Beyer, Kathryn Ann Sullivan, Katya Reimann, Kelly Link, Kristin Livdahl, Lena De Tar, Leslie What, Lettie Prell, Mary Anne Mohanraj (here are her photos), Matt Austern, Nancy Jane Moore, Nancy Proctor and her wonderful friends whose names I have forgotten and family thereof, Nina Kiriki Hoffman, Nisi Shawl, Rich McAllister, Rob Gates, Sarah Micklem, Sarah Prineas , Scott Westerfield, Sheree Thomas, Susan Marie Groppi and her boy Matt, Ted Chiang, Tempest Bradford , Tim Pratt , Trey (most links are to con reports)
And there are others whose names my sleep-deprived brain did not store.
It was way too much fun.
I was on some panels. I shall attempt to summarize some of their conclusions soon. In the meantime, AndrewN gives a thorough summary of one, the "Happy Writers & Fast Writers" panel (I am happy, though not, by any means, fast).
Posted by benrosen at June 8, 2004 11:29 AM | Up to blog